We have 6 different sizes of LED Displays for sale. We sell them at the Great Midwest Train Show each month. Visit us at the show in Building #3.
The next show is scheduled for December 3, 2023.
If you miss us at that show, visit us on January 7, February 4, March 3 or April 7.
The Great Midwest Train Show is scheduled for the 1st Sunday of each month and is located at the DuPage County Fairgrounds in Wheaton, Illinois. For a complete schedule of the shows click here.

To assist in locating the show, set your GPS to:
N41° 51.955' W88° 08.089' or the equivalent N41° 51' 57.3" W88° 08' 05.3"
Parking is free of charge but there is a fee to get into the train show.
Click here to download the latest price list.
Need the software to control these LED Displays? Click here.
Name Badge Size
Bluetooth programable, USB rechargeable - 11 x 44 pixels (93mm x 30mm or 3.7" x 1.2")
These come in 7 different colors: Red, Blue, Yellow, White, Green, Orange and Pink
Red
Blue
Yellow
White
Green
Orange
Pink
Small Desktop Size
Bluetooth programable, USB rechargeable - 14 x 64 pixels (215mm x 62mm or 8.46" x 2.44")
These come in 6 different colors: Red, Blue, Yellow, White, Green and Pink
Red
Blue
Yellow
White
Green
Pink
Medium Desktop Size
Bluetooth programable, USB rechargeable - 14 x 96 pixels (310mm x 62mm or 12.2" x 2.44")
These come in 5 different colors: Red, Blue, Yellow, White and Green
Red
Blue
Yellow
White
Green
Large Desktop Size
Bluetooth programable, USB rechargeable - 14 x 128 pixels (405mm x 62mm or 16" x 2.44")
These come in 6 different colors: Red, Blue, Yellow, White, Green and Orange
Red
Blue
Yellow
White
Green
Orange
Small Full Color Size
Bluetooth/SiFi programable, 5v USB powered - 64 x 128 pixels (384mm x 192mm or 15.1" x 7.56")
Full Multi Color, Multi frame gif animation capable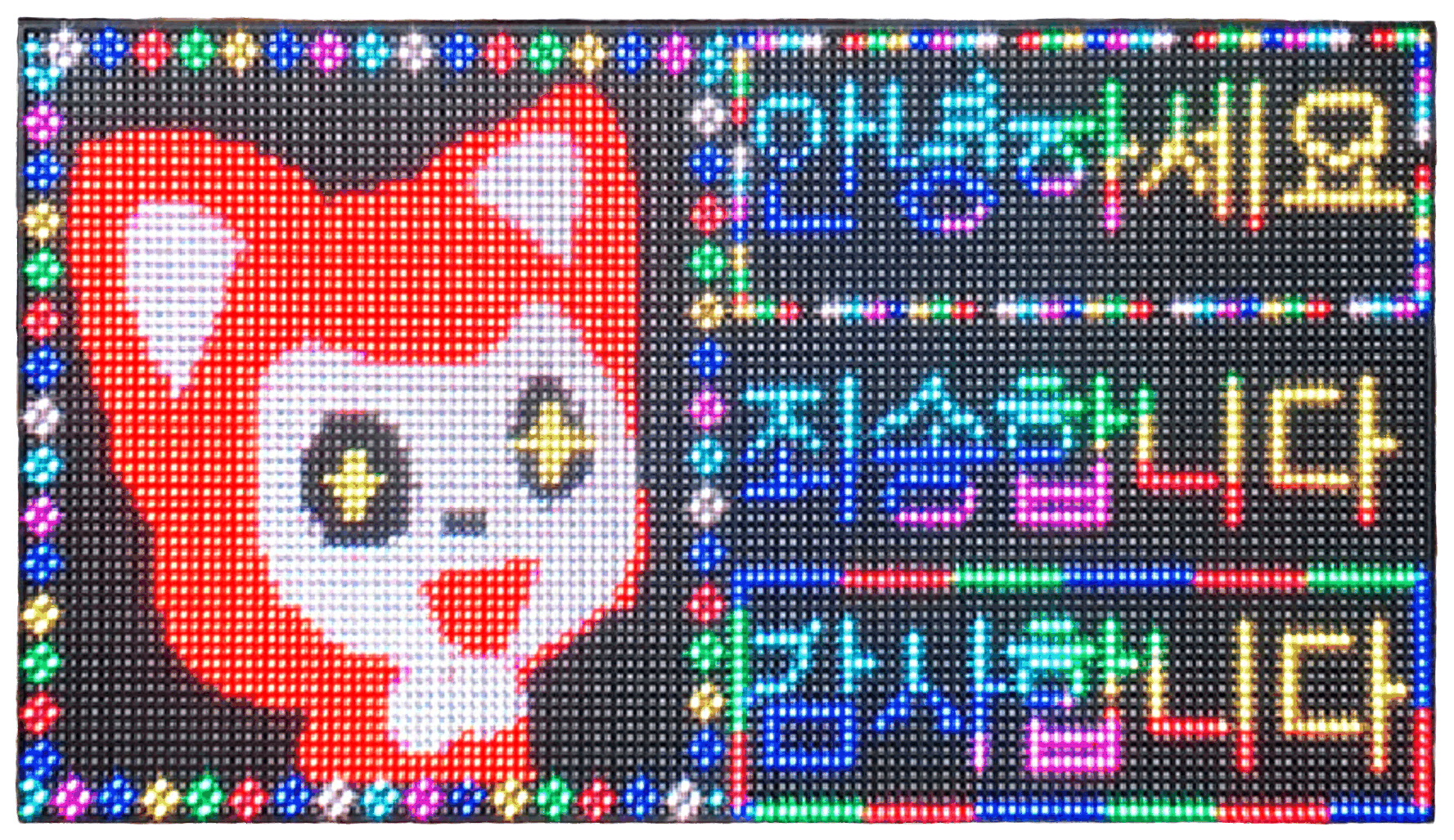 Large Full Color Size
Bluetooth/SiFi programable, 5v USB powered - 80 x 160 pixels (640mm x 320mm or 25.2" x 12.6")
Full Multi Color, Multi frame gif animation capable